"He looks sick!"
This article is in desperate need of cleaning up. Please help the Almost Naked Animalia by cleaning it up.
Thank you!

This episode is the first part of the 37th double bill of Almost Naked Animals. This episode is in Season 2.
Plot
Howie finds out that you can see yourself from a satalite. He see's the Banana Cabana and there is a country near it called Shedsylvania. The king is Duck. The Banana Cabana is part of Shedsylvania so they must live under the laws of the 'ancient scroll'. According to the scroll you must hop on one leg while cross eyed to address the king! Soon the laws spiral out of controll E.G the king must inspect his daily wedding cake and then Piggy ( Rupert ) must eat it. Everyone should be called Rupert, Floors must be ploughed every day, the pool must be filled with yoghurt daily. Every morning at 9.10am each day, the Shedsylvania national anthem must be played every day. The anthem lasts about 24hrs and Narwhal has to sing each day for 24hrs in a row. The gang finally decides that it has to end because they can't keep living like this so they decide to get freedom. To leave Shedsylvania, Duck must destroy the Banana Cabana but since the gang are his friends, he would destroy it nicely. His last attempt is to mail the hotel to a volcano. Howie stops it by removing the stamp. Bunny asks to see the scroll and she adds the order to paint the sky orange before the destroying the hotel. He paints the sky orange ( at least he tries to). When the sun sets the sky goes orange and then Duck cries VICTORY! and the episode ends.
Characters who appeared in this episode
. Howie
. Duck
Bunny
Narwhal
Sloth
Piggy
Octo
The laws of Shedselvaina were:
Look both ways before you burp.
All doors must be covered in peanutbutter.
All rugs must be lawnmorard every day blind folded.
You must address the King cross-eyed and hoping on one foot.
Everyday at 9:30am the national anthem shall be sung through out Shedselvina.
Their has to be a wedding cake made everyday and eaten by the cheff.
Everyong shall be called Ruppert.
Trivia
. Howie finds out that Duck has royal roots.
The national anthem includes some made up words like explainia and wholegrainia.
Duck's crown is a pineapple.
The air-mail man says that Howie is the ugliest bird he's every seen when his collegue is a half turkey half squid.
Gallery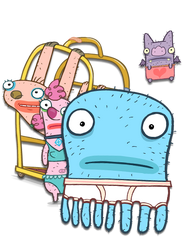 Click here to view the gallery.
Community content is available under
CC-BY-SA
unless otherwise noted.