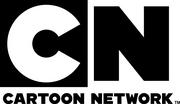 Cartoon Network or simply CN is a network that mostly airs cartoons. The channel launched in October 1992. From 9PM-6AM, it airs the nighttime block Adult Swim. The channel airs Almost Naked Animals weekday afternoons at 4:00PM ET, right after Sidekick.
Cartoon Network also airs in the HD version of the network.
CN "Coming Up Next" Promo for ANA
Cartoon Network shows
6teen
Adventure Time
Powerpuff Girls
Best Ed (cancaled)
Dexter's Laboratory
The Moxy Show
Regular Show
Flapjack
The Amazing World of Gumball
Star Wars: The Clone Wars
Ben 10
Codename: Kids Next Door
The Jetsons
I Am Weasel
MAD
Courage the Cowardly Dog
Camp Lazlo
Chowder
The Looney Tunes Show
Looney Tunes
Batman
Johnny Test
The Flinstones
Scooby-Doo
Sym-Bionic Titan
Top Cat
Sidekick
2 Stupid Dogs
Grim and Evil
Cow and Chicken
Scaredy Squirrel
Squirrel Boy
Ed, Edd n Eddy
Young Justice
My Gym Partner's a Monkey
Atomic Betty
Tom and Jerry
Ned's Newt
Johnny Bravo
The Cartoon Cartoon Show
Bumpers
Gallery 
Community content is available under
CC-BY-SA
unless otherwise noted.