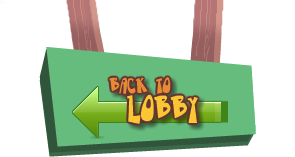 ---
Facts about Bunny The Rabbit
Bunny



HOWIE!!

Gender:
Female
Species:
Regular name: Rabbit
Scientific name: Lepus curpaeums
Age:
22
Birthday:
31
Hair color:
Yellow
Eye color:
Black
Personal Information
Affiliations:
 
None
Occupation:
 
Activities director of the Banana Cabana Pet Shop
Being friends with Duck, Octo, Howie, Sloth, Narwhal, Piggy
Residence:
 
Banana Cabana
Aliases:
 
None
Friends:
 
Duck, Octo, Howie (sometimes), Narwhal, Piggy, Sloth, Mountain Lion, Lion, Swan, Prince Charmicubs, Chihuahua others
Enemies:
 
Poodle
Love Interests:
 
None
Interests:
 
Directing activities, stickers, princesses and stickers of princesses
Fears:
 
Dark places, scary items, etc.
Family
Parents:
Dad, Mom
Spouse(s):
None
Children:
Jojo, Tom, Craig
Siblings:
None
Pets:
Alex
Others:
Bunny's Family
Production Information
First Appearance:
 
It's My Party
Voiced by:
Emilie Claire Barlow

Bunny is the Banana Cabana's activities director.
Bunny dreams about stickers, princesses and stickers of princesses. Everyone believes her to be ragingly bad tempered, but if you tell that to her face ahe will just say I'm just intense, and she continues with her bussiness. Bunny and Poodle have a bad relationship but at the same time, a clear resemblance is found. Her costume for Howieween is the same every year: a princess costume, but everyone thinks she's a wicked witch, which is she is not. 
Personality
Bunny, though extremely girly, is also fiery tempered, often yelling at her companions, most frequently Howie. Along with this temper, she is self-aware, made clear by Home for the Howiedays. Beauty is more than important to her. She hates wearing the Kikmee costume.
Appearance
Bunny is a short-tempered, yellow rabbit with two bucked teeth, perky, upright ears, and a pink nose. She wears blue eye shadow, pink lipstick, and pink underwear with a heart pattern and frilly ends.
Counterparts
Rabbit (Winnie the Pooh, both are short-tempered yellow rabbits)
Little Miss Bossy (The Mr. Men Show, both are bossy)
Candace (Phineas and Ferb, both are bossy)
Mr. Mean (Mr. Men series, both are fiery tempered)
Squidward and Mr. Krabs (SpongeBob SquarePants, all are short-tempered)
Diesel 10 (Thomas the Tank Engine, both are yellow and grumpy)
Bert and Oscar the Grouch (Sesame Street, all three have the same attitude)

Courtney (Total Drama, both bossy, short-tempered and sound alike)

Minnie Mouse and Daisy Duck (Mickey Mouse, all three are girly but short-tempered)

Tito and Georgette [Oliver and Company, all three are short-tempered]

Nala [The Lion King, both are girly but short-tempered]

Stella [Over the Hedge, both are girly but short-tempered]

Lady and Angel [Lady and the Tramp, all three are girly but short-tempered]

Duchess, Marie, Abigail and Amelia Gabble [The Aristocats, all five are girly but short-tempered]

Rarity [My Little Pony Friendship Is Magic, both are girly and love fashion.]

Seregant Calhoun [Wreck it Ralph,both bossy.]

Mr.Gus [Uncle Grandpa,both short tempered and serious.]

Laney Penn (Grojband, both are short tempered and serious but still have lots of fun with their gangs (Laney has more fun with Grojband than Bunny does with the crew at the Banana Cabana though)

Nostalgia Critic (Nostalgia Critic, both are short-tempered and constantly get annoyed by nonsense and stupidity)
Ren Hoek (Ren and Stimpy, both are short tempered yellow animals with big ears)
Lois Griffin (Family Guy, both are short tempered and serious and get annoyed with the wacky main character and his comical antics that he pulls off every day. Bunny - Howie, Lois - Peter)
Inez (Cyberchase, both are girly but short-tempered)
Jane (Peter Pan 2, both are girly but short-tempered)
Poland (Hetalia, both are girly)
Germany (Hetalia, both are serious)
Miss Piggy (Muppets, both are girly and short-tempered)
For more counterparts, see: Counterparts.
Trivia
Her room is decorated in a very feminine way, with pink walls and furniture.  (La sua camera è arredata in modo molto femminile, con le pareti rosa e mobili.)

Her most prized characteristic is her perky ears.
She once went crazy when Batty complimented her to much.
In one Episode she grows a beard.
Bunny and Sloth share a sister's bond together though they have less things in common.

In camp stinkwahway, Bunny did share a tent with Howie always come to Duck for a very way and he's inventions.
Bunny did take anger mangment class so she can control her temper.
Bunny always told Howie to think before acting.
Bunny might also have a love/hate crush on Howie.
Bunny is the only mature character who is watching out for her friends.
Bunny did go on a date with one of the staff in one of the episode.
There was two errors with Bunny in one-five episode Bunny used her left hand to pick up a phone but during the night bunny used her right hand Bunny might be left or right handed because Bunny never metioned wether she is left or right handed.
Bunny, Narwhal, Piggy, Octo and Duck already know that Sloth has a crush on Howie during the two seasons.
In Miss Surronding Area Bunny and Batty were the winers of the competition.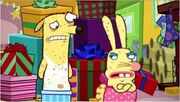 Gallery
References
----
Community content is available under
CC-BY-SA
unless otherwise noted.