Batty The Bat



I'll go get my fun destruction kit.

Gender:
Male
Species:
Regular name: Bat
Scientific name: Chiroptera
Age:
12 (due to small size and young voice)
Birthday:
Unknown
Hair color:
Purple
Eye color:
Black
Personal Information
Affiliations:
 
None
Occupation:
 
Being Poodle's henchman
Being frenemies with Howie, Duck, Octo, Bunny, Sloth, Narwhal, Piggy
Residence:
 
Chateau Chattoo
Aliases:
 
None
Friends:
 
Poodle, Howie, Duck, Octo, Bunny, Narwhal, others (sometimes)
Enemies:
 
Same as above (sometimes, due to being a deuteragonist)
Love Interests:
 
Poodle (potentially)
Interests:
 
Helping Poodle, destruction, hugs
Fears:
 
Dark places, scary items, etc.
Family
Parents:
Dad, Mom
Spouse(s):
None
Children:
None
Siblings:
Ratty (cousin), Howie (long lost cousin)
Pets:
None
Others:
None
Production Information
First Appearance:
 
It's My Party
Voiced by:
Julie Lemieux
Facts About Batty
Batty is Poodle's henchman.
He is always having to do every thing for her. He is also is accident-prone.
Batty loves Bubble gum but Poodle will not allow it.
Batty and Howie have a slight friendship, but when Poodle is around Batty is mean and rude to Howie. When Poodle is not around Batty seems nice to Howie. As it turns out, Batty is Howie's long lost cousin. Once Batty was Bunny's evil minion and helped her take over the Banana Cabana. Batty has a cousin called Ratty. Once Batty and Octo became evil and sorted things the right way so Octo can be Howie's best friend and Batty can be Poodle's best friend also can be Poodle can be Batty's boss and Batty can get rid of Ratty and Poodle can prefer Batty more than Ratty. Ratty is Batty's archenemy.
Biography
Early Life
Batty grew up in a small cottege in the town. He first met Poodle when he was 5, but he liked Howie better.
Current Life
Batty now works at the Chateau Chattoo and also works for Poodle. He has a huge crush on Poodle.
Personality
Batty is very helpful (even for Poodle). He loves dancing, chewing gum and eating gravy.
Underwear
Pink with a big heart
Relationships
Poodle Batty's boss. Batty does everything for her but sometimes gets annoyed. Batty loves Poodle[1].
Howie
Batty and Howie share little to no friendship, because they never talk to each other much. Batty seems nice to him when Poodle is not around, otherwise, when Poodle is around, he is mean to him.
kind of Batty's friend.
Bunny
Batty's former boss.[2] They both also share 25% of friendship.
Duck
Batty once sawed off Duck's head and implanted a camera in it, then stitched Duck back together. Duck did not seem to care.
Gallery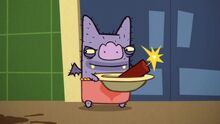 Appearances
Season One
Season Two
Trash to the Past
Howie's Pet Project
Octo vs Batty
The Brother and Sister Games
Freebies Jeebies
Season Three
Counterparts
Fidget (The Great Mouse Detective, both are evil bats)
Chomper (The Land Before Time, both are small and purple)
Trivia
In the episode "Oh Brother, Who Art Thou?", according to Poodle, Batty is (or might be) Howie's long lost cousin.
His voice may indicate that he is a child.
Batty's birthday was never mentioned during the seasons
Batty has no brothers or sisters
Batty is 40% evil and 60% good
Batty was once Octo's friend
Behind the Scenes
References
---