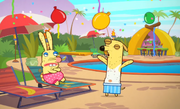 Almost Naked Animals is a Canadian animated television series produced for YTV and Cartoon Network. The series was created by Noah Z. Jones (the creator of the Disney Channel animated series Fish Hooks) and began airing in 2011 and stopped airing in 2013.
Plot
The cartoon is set inside a tropical cabana called the Banana Cabana.[1] All of the cabana's staff members and residents are funny animals who have shaved off their fur and wear only underwear. A dog named Howie is the owner and leader of the cabana, which is run with the help of his various friends. Each episode follows the misadventures of Howie and his crew around the cabana.
History
Production of the show begin in October 2009, although it was a concept as far back as 2006.[2]Originally, the series was to debut on YTV on Fall of 2010, but its debut was delayed until January 7, 2011.
In the UK, the series debuted on CITV, on April 11, 2011.
In Australia, the series debuted on ABC3 on May 27, 2011.
The US premiere was announced in April 18, 2011[3] and debuted on June 13, 2011 on Cartoon Network.
In 2018, the series premieres on Qubo in 2020, the series plays in PAL audio, unlike the Cartoon Network airings and the DVDs.
Internationally, the show has been picked up by Disney Channel (Italy/India/Latin America), Luk International (Spain) and Z@pp/Zeppelin (Netherlands) to air in their lineups. The show also debuted on Canal+ (France) and Super RTL in (Germany) thie fall of 2011.[4]
A second and third season is currently in production, and have been finished and aired.
Characters

Episodes
See List of episodes
Show Info
Creator - Noah Z. Jones
Seasons - 3 (all 3 aired)
Episodes - 52 (all 52 aired)
Language - English
Director - Brad Ferguson
Executive Producer - Vince Commisso, Steve Jarosz, Noah Z. Jones
Producer - Tristan Homer
Creative Producer - Mark Satterthwaite
Runtime - 11 minutes per episode (22 min. in U.S.)
Companies producing it - YTV Productions, 9 Story Entertainment, Cartoon Network (acquired it)
Original channel - YTV
Primary channel - Cartoon Network
Original run - January 7, 2011 (June 13, 2011 in the US) - May 22, 2013 (June 19, 2013 in the US)
Website - http://www.almostnakedanimals.com/
National and international release
Image
Country
Premiere
Channel / Network



Canada (Show Origin)
January 7, 2011 (YTV)
September 3, 2012 (Nick Canada)
YTV and Nick Canada
UK
April 11, 2011
CITV
Australia
May 2011
ABC




US (Episodes aired here before anywhere else, except for Canada)
June 13, 2011 (Cartoon Network)
March 5, 2012 (Boomerang)
July 25, 2020 (Qubo)
Cartoon Network and Boomerang
France
Fall 2011
Canal+
Netherlands
Fall 2011
Z@pp
Germany
Fall 2011
Super RTL

Russia
June 1, 2012
Disney Channel Russia
Spain
Sometime during 2012
Luk Internacional
References
External links